ART CONTAINER PRESENTS:
SERVATAGUSE MUUSIKA
Friday, October 2
Starting from 8 PM
At Culture Factory Polymer Madara 22
Lucas Abela (Australia)
GRAVE NIGGUZ (Russia)
Saulius Leonavicius (Lithuania)
Manuel Prados Sanchez (Spain)
Lucas Abela
Sound Performance
Australian experimental music legend, famous for finishing his every performance
by breaking a pane of amplified galss into his head.
GRAVE NIGGUZ
Experimental hip-hop

http://www.youtube.com/watch?v=obrMmNzRJAQ&feature=related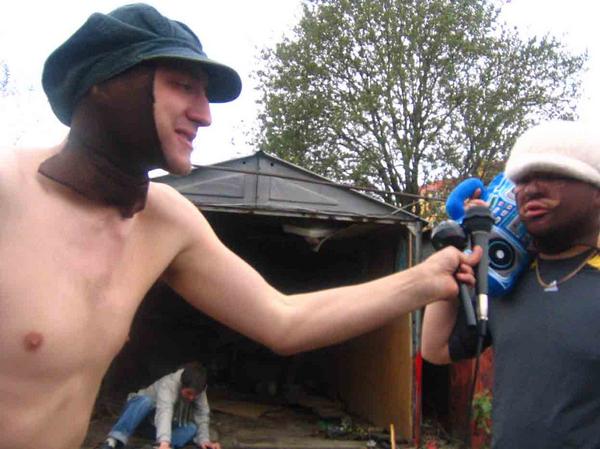 Saulius Leonavicius
Manuel Prados Sanchez
EXTRATERRESTRIAL PHONE HOME
multi-format device with use of audio visual call home.

http://extraterrestrialphonehome.ning.com/
'Servataguse Muusika' aims to present performers for a monthly or fortnightly experimental music night in Tallinn. Encompassing performers from Estonia and also the greater region... Latvia, Lithuania, Finland, and even Russia and Sweden and beyond, if possible.
The aim of this themed event is to present and promote those forms of music that exist beyond the margins. And which has 'some property' that takes it outside the realms of familiar song writing and/or song format.
The elements to cause this may (not necessarily) be:
* An absence of common instrumental format (i.e. guitar drums bass --- though please don't think this means a ban on the guitar bass drum format)
* A sense of theatre or storytelling
* An oddity
* Experimentation in both use of instrumentation and sound production and/or building instruments and sounds.
* An event of sound that when leaving the performance, causes one to see a same environment differently...
* Unique design and composition of sound and its texture.
* An element of improvisation or looseness. (Though this doesn't mean a completely rehearsed and perfectly repeatable performances is disallowed).
At this event amateurs will perform alongside professionals. And seasoned performers will be just as welcome as performers starting out in live performance. It will be a meeting point and presentation of music from beyond the margins, exploring aspects of sound on a path less trodden and traversed.
http://www.myspace.com/servatagusemuusika
........................................................................................................